Since the inception of online casinos, slot games have been the center of the gambling world. The best online casinos will offer thousands of slot titles to keep their customers entertained. Real slot machines don't even come close to online slot titles. We are not even mentioning the fact that you can play from the comfort of your own home. Online slots come with exciting gameplay, various bonus features, free spins, gambling features, and more. However, these are not even the best things about them. The RTP is much higher in online slots. It stands at 93 to 97% while slot machines have an RTP between 83 and 88% On top of that, payments are also higher compared to real machines in land-based casinos. Keep reading to learn everything you need to know about slot games and how they became so popular.
History of Slots
The history of slot machines begins long before they were introduced to casinos. At first, they worked like vending machines that you could see in bars. These vending machines had two horses racing as a game on them. The machine didn't award any coins but people would use the races to bet against each other. Whoever bets on the winning horse would get the money at the end of the race. We believe someone noticed that people are willing to bet and came up with an idea that eventually created slot games.
Sometime during the late 1880s, the first slot machine that awarded automatic payouts was invented. It had only three reels and the highest reward was awarded when players got three bell symbols. For that reason, the first slot machine got the name Liberty Bell. To play the game, players needed to pull a lever which turned the reels. The lever gave players a lot of satisfaction as it made it look like they control the outcome of the game. Two decades later, the Operator Bell slot was created. It was the first fruit machine and it had the logo of the Bell-Fruit company. On top of that, it was the first time the famous BAR symbol appeared in a game. Today, more than a hundred years later, fruit machines are still extremely popular.
By the mid-1960s, Money Honey, the first fully electromechanical slot hit casinos. Just ten years later the first video slot was created and became popular in Las Vegas. It took just a couple of years for video slot games to take over the industry. Today, around 70% of a casino's income comes from video slots. When the internet took over just before the new millennium, video slots became available online but more about that is below.
What are Slot Games?
If you mention casino games to a person who is not really into any kind of gambling, that person will still know about slot games. They are so popular that we can see them everywhere, even on TV in commercials. However, when we talk about the best online slot games or at least the most popular ones, we have to mention fruit slots. There are thousands of them in online casinos. Nevertheless, let's talk about how they came to be. They were the first to exist and we can explain what these games are through them. A slot is a gambling machine that offers a game of chance where players can win rewards just like with any other gambling game.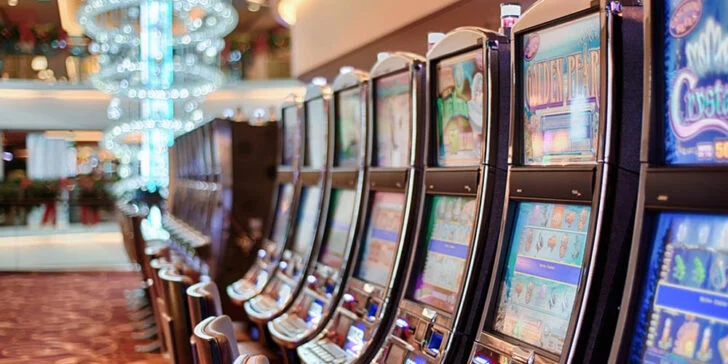 Slot games have a layout feature where the screen features reels that the player has to spin. In slot machines, those reels spin when you pull the lever. In online slots, you only need to click on the "Spin" button. These games payout based on random number generators. For short, we call them RTP in the gambling world. Higher RTP means that the slot game has a bigger payout. In most cases, the RTP in modern slot games is between 93 and 98%.
Fruit Machines
These are the first real slot games to ever exist. Before land-based casinos became a thing, these slot games free were and only available in bars. However, a lot has changed over the years. Today, they are available in both casinos and in a lot of land-based bookmakers. On top of that, software developers created fruit-themed online slot titles. Every casino game provider, starting with a small unknown startup and ending with one of the big betting corporations in its offer, has several different slot fruit games. The reason they are so popular is that they have very easy gameplay. Even people who never played slots can spin and win. They are also great for bringing back nostalgia.
There are two different types of fruit machines. First, we have the classic one that has 3 reels and up to 10 paylines. The classic fruit machines all look like each other and the gameplay is the same as well. Video fruit slots, on the other hand, are much more exciting. They are the type you can find in online casinos. These slot games have 5 reels and advanced graphics, animations as well as bonus features. Nevertheless, they still feature the fruit symbols which are the most popular symbols when it comes to slots.
Types of Online Slot Games
Advanced technology has put real classic slot machines in the background. Online slot games took over and they are now the biggest earners in the gambling world. Developers create new online slots all the time. There are thousands of them right now and we can separate them into several categories. Whether by the number of reels, the number of paylines, bonus features, jackpots, and more. Below, we will talk about all the different types of slot games in Kenya.
Classic Slots
We have mentioned this type several times in this article. Classic slots are the most basic version of the game. They have 3 reels and are exactly like the old slot machines that we see in land-based casinos. They are the best choice for new players who haven't yet played any type of slot title. In most cases, classic slots have only one payline and you can't lose a lot playing them.
Classic online slots, on the other hand, are a bit different. They also have 3 reels but they can have from one to hundreds of paylines. Compared to classic slot machines, they have more exciting gameplay and higher quality when it comes to graphics and audio. Lastly, 3D classic slots have a special theme and a storyline. While you play, you go through levels and there are side challenges that can pay extra. 3D slots are like a combination of video games and slot machines.
Number of Reels
The next way by which we can divide slot games is by the number of reels there are. You should know that reels are all the vertical sections that have spinning symbols on them when you click on "Spin". Even though classic slots with 3 reels are still popular, there is more excitement when games have more reels. The most common type of slot games today are ones that have five reels. More reels mean that these games have more paylines. They can go up to 100 paylines.
However, that's not all, because there are slot games that have six and/or seven reels. They have more complicated gameplay and are not the best choice for new players. Winnings are harder to come by in these games but when they happen, they are much bigger than in the slot titles that have only 3 reels.
Number of Paylines
The final way how we can separate slot games is by the number of paylines. As we already said, classic slots had only one payline which was a combination of three symbols in a row. Contrary to that, new online slots can have a lot of paylines. Slot titles today can have up to 243 paylines. Games with more paylines increase your chances of winnings; however, more paylines also mean that you pay more per spin. Some of the standard paylines are 5, 9, 15, 20, 25, 30, 40, 50, and 100, and they can be horizontal, vertical, or even zigzag.
Lastly, we have to mention the MegaWays types of slots that a lot of software developers are offering. These games don't have classic paylines but rather 243, 1024, or over 100,000 ways to win. These slots don't have rules when it comes to creating winning lines. They don't have to go from left to right, etc. MegaWays slots pay regardless of where the symbols drop on the reels. Additionally, these titles come with various bonus features.
Bonus Features in Slot Games
Bonus features are the main reason why slot machines and classic online slots have been replaced by modern slot games. Triggering these features enriches the gameplay and attracts more players. It doesn't matter what kind of bonus features a slot has because they offer additional opportunities to win. A progressive jackpot is also a bonus feature and if you win that, it can potentially change your life. That's why jackpot slots are considered the best gambling games in the world. Nevertheless, in the next section, we will share a few words about all the different bonus features.
Free Spins
We start with the most popular bonus feature that's also a fan favorite. This feature awards players with spins that they don't have to pay for. Depending on the bonus, players usually need to get a specific combination of symbols to trigger these free spins. Once you win them, you can spin the reels for free and if you get any wins, you get to keep them. A lot of times free spins features can be re-triggered which means the player can get an extra amount of free spins.
Bonus Round
Slot games with bonus rounds are always popular among casino players. Just like the free spins, there is a special way to trigger a bonus round. Usually, there is a scatter and if you get enough of them on the reels the bonus round will begin. In most cases, the bonus round changes the gameplay by switching to a whole other screen. It's like a mini-game within the game. Some bonus rounds ask players to make picks, collect certain symbols, connect objects, etc. What's best about a bonus round is that it can really boost your winnings.
Wild Symbol
Almost every online slot game out there will have a wild symbol. The main job of this symbol is to work like a joker. It's used to substitute for other symbols and that way help with creating winning paylines. For instance, you are playing a 5-reel slot and you line up 3 or 4 symbols and a wild. In that case the wild will increase your lineup by an additional symbol, so your 4 symbols will become 5 and you will get a bigger payout. Additionally, wild symbols sometimes have an extra bonus that activates only when you get to the bonus round.
Scatter Symbol
We mentioned these symbols in the Bonus Round section. A scatter is usually one of the highest-paid symbols in a slot game but it's also the symbol that can trigger bonus rounds. However, keep in mind that every slot will have a requirement on the number of scatters you need to get in order to trigger the bonus round. Some slots will have a specific requirement that all scatters need to appear on the same reel to activate a bonus round.
Tumbling Reels
A lot of modern slots have a tumbling feature which creates a whole different gameplay to classic slot games. When you win in these slots, the symbols that were part of a winning line are removed from the screen and new symbols fall from above randomly in the empty spaces that were left behind. Since it's completely random, the new symbols that fall can keep creating winning lines. This can go on for some time if you are lucky which means you can get substantial wins, especially if you are playing on the maximum bet.
Jackpot Slots
Lastly, we have the jackpot slots who are the most popular slot games out there. We don't really need to explain why they are the most popular – people love jackpots! However, there is something we need to clarify. At the moment, there are two types of jackpot slots – progressive and non-progressive (fixed).
Progressive jackpot slots are ones where the jackpot is not a fixed amount. The jackpot grows with every bet on the game, across all the casinos where that game is available. This means that the jackpot is growing almost every second of the day. These progressive jackpot pots consist only of bets made for that particular game, but also can be more games linked and they all contribute to that same jackpot pot. When someone wins the jackpot, the pot goes back to the starting amount.
On the other hand, non-progressive jackpot slots are the ones where the jackpot is a fixed amount. It doesn't matter how many people are playing or how many bets are made. The fixed jackpot amount always remains the same. The amount is built within the slot game which means that it's possible for the same person to win twice in a row.
How to Play Slot Games
Even though it depends on the slot you are playing, slot games are very straightforward. You pick a game, set your bet per spin amount and start spinning in the hope of winning. However, here are some tips that will help you improve your game and increase your chances of winning while playing casino slots.
Find a slot title that you love based on the theme, betting amounts, bonus features, etc.
If the casino offers some kind of bonus for that slot (free spins, etc.) accept it before playing.
Try to play jackpot slots as much as possible as the award there are always bigger.
Check to see what was the amount of the jackpot when it was last won.
If you think you can cheat the machine – stop it! You can't cheat a computer.
Start by playing slot games free so you can get the hang of it without spending your money.
Best Online Slot Games
As we said, there are thousands of online slots available at casinos at the moment. On top of that, software developers are creating new titles every day. However, there are several titles that have existed for a while now and are still extremely popular. Here is a list of several games that casino players believe are the best in the industry:
Book of Ra – This is one of the oldest online slots in the world. However, since it's so popular, the developer has refurbished it several times. Still, it's not among the best when it comes to graphics because it's old yet it holds the award for the most played game. It is an Egypt-themed slot, with 5 reels and 9 paylines. There are different versions of it but Book of Ra will always be the original.
Book of Dead – As a variation from the above-mentioned slot, Book of Dead is considered one of the best slots ever. It has an RTP of over 96% which is very rare, an interesting theme, fun graphics and sounds, and excellent bonus features.
Starburst – Another title that's played all over the world. It has a fun theme and huge rewards. This slot has an amazing 96.09% RTP which is why is highly recommended.
Flaming Hot – The most popular fruit slot title. It comes with 40 paylines and big wins.
Mega Moolah – One of the most popular jackpot slots to ever exist. It's been around for more than 10 years and in those years a dozen people have won jackpots higher than $10 million.