Back in the day when land-based casinos were the norm, people didn't have to worry about casino payment methods. You went to a casino and bought chips with cash and you were ready to play. However, payment methods in online casinos are very important. A lot of casino players choose to play at a certain online casino simply because it offers a wide range of payment options. After all, you are playing from the comfort of your own home. The idea is to get the full casino experience without the hassle of travelling to a real land-based casino. For that reason, casino players have to be able to choose from several different payment options. Every player should get the opportunity to use his preferred payment method.
However, since the industry is growing with every passing day the number of players at online casinos grows as well. A lot of payment methods were designed to satisfy the needs of these new players who are replacing land-based casinos with online casinos. All of them want to be able to deposit and withdraw as fast as possible. This is where payment methods in online casinos come into play. These operators are trying to add as many options as they can. More options = more players on their platform. However, because of that, there are now hundreds of payment methods out there. It might be confusing to find the best one for you. For that reason, we will list all the options and help you make an informed decision.
Casino Payment Methods
As we already mentioned, there are hundreds of different payment options that players can use. It's impossible to mention all of them but what we can do is group them up into several categories. That way, casino players can know which group of casino payment methods suits their needs the best. For instance, credit/debit cards, e-wallets, crypto coins, etc. Keep reading to learn everything you need to know when it comes to payment methods.
Bank Transfer
This is the oldest payment method in existence when it comes to online casinos. These days it's rarely used and mostly in countries where newer casino payment methods are still not available. Bank transfers can be used for both deposits and withdrawals. The reason why this method is not very popular is that its rather slow compared to other options. First, you have to go to the bank to make the transfer and the time it takes for the money to appear in your casino account is very long. In comparison, e-wallet transfers are handled instantly. A bank transfer, on the other hand, can take up to 10 days. It's not convenient at all because you won't be able to play until the money appears on your online casino account.
Still, most online casinos still keep this casino payment method around to satisfy customers from countries where this method is the only choice. On the positive side, a bank transfer is a very safe way to make a deposit at a casino.
Casino Payment Methods: Credit/Debit Cards
This is another well-known payment method often used in online casinos. As a matter of fact, debit and/or credit cards were the norm for a long time. Almost every person alive has one of these cards. It's very easy to get one as all you need to do is go to a bank and apply for one. Of all the casino payment methods that exist, we believe that this is the method that's available across all online casinos in the world. The most popular credit/debit cards are Visa, MasterCard, and Maestro.
However, there is one problem when it comes to this method. A lot of banks don't accept online gambling which means you won't be able to deposit or withdraw through their credit/debit cards. Also, there are countries that limit the use of credit cards when it comes to gambling. England is such an example where credit cards are completely banned for use in all forms of gambling. So, if you are from the UK, this casino payment method is not a good option.
E-Wallets
E-wallets, otherwise known as digital wallets are the most popular payment option in all casinos around the world. An e-wallet works exactly like an online wallet, it's a place where you keep your cash. You can fund that wallet through a credit/debit card deposit, a bank transfer, or some other method if the digital wallet accepts it. At this point, you might be asking yourself why to use an e-wallet where you have to deposit funds through your card anyway when you can just use the card instead. The answer is simple, not all online casinos accept card payments. It depends on the country, the bank you are in, or the casino but your card might not be accepted.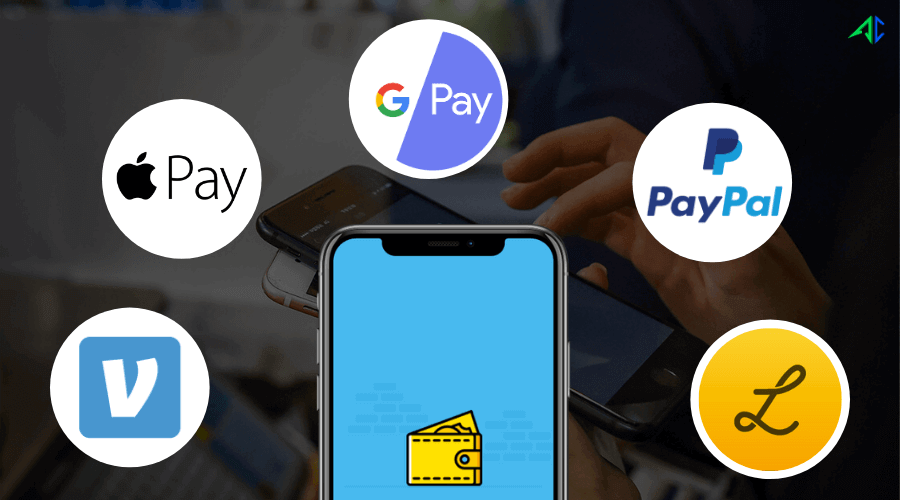 On top of that, as casino payment methods go, e-wallets are some of the safest options out there. When you deposit or make withdrawals through a digital wallet, your bank information is never shared. The casino will only get your wallet's account info but nothing else. This works as an extra security measure against fraud or identity theft. Additionally, using a digital wallet is the fastest way to transfer funds to an online casino. All you need to do is log in to your casino account, pick the e-wallet option you want to use, choose the amount, enter the wallet's info (username or e-mail) and confirm the transfer. The funds are transferred in a matter of seconds and you can start playing right away.
However, sometimes there is a bad side to using a digital wallet in an online casino. Some of them attach extra fees when you make deposits or withdrawals. Among casino payment methods, some e-wallets have the highest fees. At the moment, PayPal is the most popular digital wallet while Skrill and Neteller are close behind.
Prepaid Cards
Prepaid cards are still a rather new casino payment method. On the plus side, they are one of the most secure methods available right now. It's the perfect option for casino customers who don't want to share their bank information. A prepaid card is basically a voucher that has a PIN number. You can use the card by entering your PIN to make online payments. You can buy a prepaid card in stores, depending on which card you want to buy. They have fixed amounts, so if you buy a prepaid card for $50, it will have only $50 on it.
As we said, the reason why prepaid cards are among the most popular casino payment methods is that you don't need to provide any personal information to the casino. To make a deposit, you need to enter the 16-PIN code of the card and enter the amount you want to deposit. It works in a similar way when it comes to withdrawals. Paysafecard and ecoPayz are the most popular options among prepaid cards. However, before using them, you need to check if they are available in the country you live in. Also, check if the casino you want to play at charges additional fees for the use of prepaid cards.
Cryptocurrencies
The newest casino payment methods come in the form of cryptocurrencies. They are digital currencies where there is no physical coin or bill, instead, everything is handled online. Cryptocurrency is stored in a digital wallet, either online, on your computer, or on other hardware. Since crypto became popular all over the world, a lot of online casinos began accepting these coins as a payment method. Additionally, a lot of online casinos were created as crypto casinos. Their main attraction is that they only work with crypto, mainly Bitcoin.
These coins are protected by cryptography which means counterfeiting is impossible. Security-wise, cryptocurrencies are a very safe option for depositing/withdrawing at an online casino. What makes this method great is that transactions are fast. It depends on the wallet you use to keep your coins but in most cases, transactions are done instantly. At the moment, there are more than 2,000 different cryptocurrencies in the world. However, when it comes to online casinos, Bitcoin and Ethereum are the most popular options.
How to pick your preferred casino payment methods?
Now that you know the groups of different casino payment methods, it's important to know how to pick the best option for your needs. Casino customers need to take several things into consideration when they make their choices. Here is how you can make the best decision:
If you want instant transactions it's best to avoid bank transfers. This method is used by people who play all the time and they can afford to wait for their deposits.
Make sure to check if there are additional fees. Some payment providers charge extra fees for deposits and/or withdrawals. In most cases, e-wallets are the ones that charge the most. Additionally, check if the casino has some hidden fees for deposits and withdrawals.
Make sure that the method you use is available for both deposits and withdrawals. There are casino payment methods that are available only for deposits. This will mean you have to use another method for withdrawals which will make things messy. It's always best to use the same method for both transactions.
Last but not least, make sure to check whether the method you want to use is safe and secure. So, find a casino that's fair, safe, and licensed by a proper gambling authority. In such a casino all payment options will already be verified. From our point of view, always use prepaid cards for withdrawals. That way you won't have to share any personal and/or bank information with the casino.