Skrill is a digital wallet, otherwise known as an e-wallet provider. It's used to make online payments and money transfers. It's one of the best and most popular options in the industry. At the moment of writing, there are more than 40 million people around the world using this service. Almost every online merchant out there accepts this e-wallet. However, what we are interested in is the fact that Skrill is a major payment option at online casinos. Players can deposit and make withdrawals using this method. Below, we will share everything you need to know about this payment service. This includes history, services, online payments, security, fees, and more.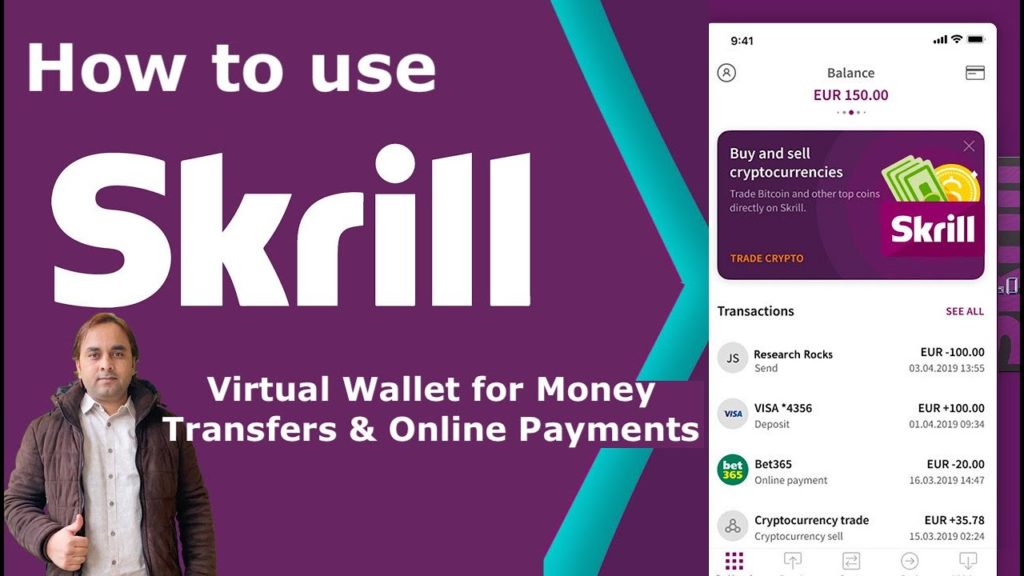 History
The company was established back in 2001 under the name Moneybookers. With headquarters in the UK, it became a popular online payment operator within the first couple of months. Ten years later, the company decided to rebrand and became the service that we know as Skrill. Before the rebranding, the service mostly catered to customers who wanted to make online purchases. However, shortly after the rebranding, the company became the official sponsor of the European Poker Tour, owned by PokerStars. This move was seen as a way for Skrill to expand its customer base in the online gambling world. Success followed and a short period after the rebranding this operator acquired Paysafecard.
A few short years later, in 2015, the Optimal Payments Group bought both Skrill and Paysafecard. They later rebranded as the Paysafe Group and have since acquired other online payment methods as well. Backed by the Paysafe Group, Skrill continued its expansion. Their portfolio increased as they started offering more services. For instance, international money transfers, crypto transfers, and a loyalty program known as KNECT. Customers can convert their funds into Bitcoin, Ethereum, and many other crypto coins. Because such a service is among the best e-wallets in the world. It's the reason why back in 2019, the company won the award for Best Digital Wallet at the Future Digital Awards.
It's also important to note that Skrill is currently available in more than 200 countries. On top of that, it supports transfers in over 40 different currencies. Keep reading to learn more about the services offered by this excellent e-wallet.
Skrill Services
At the moment, Skrill offers online payments, sending/receiving money, and selling/buying cryptocurrencies. To help users, they have created an app that's compatible with both iOS and Android devices and it works just as well as the desktop website version. It's easy and straightforward giving you a user-friendly way of working with your funds. Additionally, customers have the option to get a Skrill prepaid card that is linked to their main accounts. The prepaid card comes from MasterCard and can be used for in-store payments and withdrawing cash from an ATM. When used for in-store purchases, there are no fees; however, a small fee is taken when withdrawing cash from an ATM.
Online Payments
Offering online payments was the first service provided by Skrill. To this day, it remains the most important service because almost every popular merchant in the world accepts this e-wallet as a payment option. Customers can fund their accounts through a debit/credit card, a bank transfer, or some other local payment option. Once your account is funded, you can use it to make payments by just entering your Skrill credentials. No need to share any bank or personal info. This way all your payments are handled faster and are completely secure. On top of that, you can use the e-wallet to move money across Forex platforms anywhere in the world at any time you deem necessary.
However, what's best about this service is that Skrill is accepted in almost every well-known online casino, poker room, and any other gambling site. The e-wallet allows you the quickest way to move your money. You can deposit on an online casino without having to share personal or bank details. The transfer is instant and you can play at that casino within seconds. Simply, log in to your casino account, go to the deposit section, pick Skrill as the deposit option, enter an amount, and you are ready to play. To make things better, withdrawals are handled in the same way as well. Withdrawing through an e-wallet is much faster than any other payment method out there.
Sending/Receiving Money
Skrill has made sending and receiving money the easiest thing in the world. What's best about this service is that you can send money to a person who doesn't even have a Skrill account. You can send money directly to bank accounts, mobile wallets, phone numbers, etc. Simply log in to your account, and choose one of the options. You can choose the Money Transfer option, send to a mobile number or an e-mail option, and follow the steps.
Receiving money works in the same way and people can send money to you even if they don't have a Skrill account. On the other hand, if they do have an account, things become even faster. The sender can just pick the Skrill to Skrill option and you will receive the money instantly.
Buying/Selling Cryptocurrency
Over the last couple of years, the financial world changed drastically. Cryptocurrency became an everyday thing and a lot of online services started accepting certain coins as payment options. Because of that, e-wallets needed to work with cryptocurrencies if they wanted to remain relevant. Skrill did exactly that by offering a crypto trading service. This e-wallet allows you to hold crypto coins and convert them to other coins within seconds. There are various coins accepted on the platform including popular options like Bitcoin (BTC); Bitcoin Cash (BCH) Dash EOS, Ethereum (ETH), Ethereum Classic (ETC), Kyber, Litecoin (LTC), Tezos, XLM and 0x (ZRX).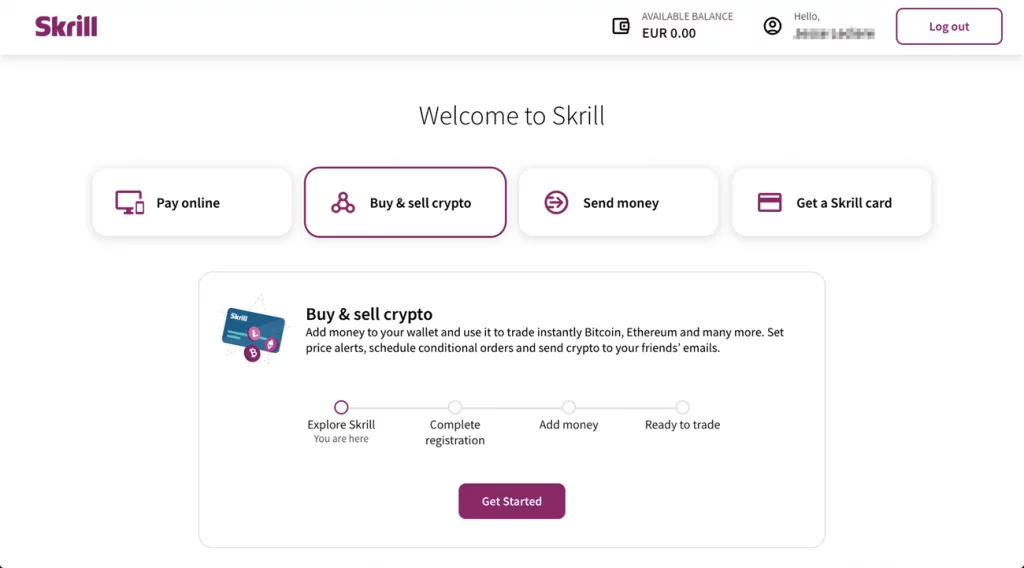 If you have money in your Skrill account, you can visit the Crypto option and select the coin that you want to buy. Enter the amount of money you want to spend on that cryptocurrency and you will receive it instantly. On the other hand, if you decide that you no longer want any cryptocurrency, you can just as easily convert the coins into the original FIAT currency you bought them with. All of this will be handled within seconds.
Skrill Fees
Payment fees play a major role when deciding on which e-wallet to use. Every digital wallet has different fees for its services. This is true for Skrill as well, so every customer should learn about the fees before committing to this e-wallet. There are certain fees for deposits/withdrawals, as well as money transfers. However, there are no extra fees for receiving money.
A flat fee of 1% is charged when you deposit money into your Skrill account. It doesn't matter which method you use to fund the e-wallet, the fee remains the same. This 1% fee is quite low, compared to other digital wallets. The fee is taken out directly from your deposit. For instance, if you deposit $100, you will receive $99 ($1 fee).
Looking at withdrawals, the fees are higher and also depend on which payment method you are using.
Debit card withdrawals – 7.5% Fee
Withdrawing to a Neteller account – 3.49%
Bank withdrawals and/or other global payment methods – Fixed fee of $5.50
Sending money from your account to another Skrill account comes with two types of fees. The fees are connected with the deposit method you used. So, if you made a deposit with a card or through a bank transfer, your fee for transferring money will be 1.45%. The fee will be 4.49% if you made the deposit via BitPay, Paysafecard, or Neteller. If you want to transfer money to a domestic bank, the fee goes up to 2% while an international transfer in the same currency has a fee of 4.99%.
As we already said, receiving money carries no fees. Paying an online merchant via Skrill also comes with no fees. Lastly, using the Money Transfer option to send money to an international bank account is free of charge as well.
Security
Skrill is one of the safest and most secure e-wallets in the world. Their work is authorized by the UK Financial Conduct Authority and is regulated by the Electronic Money Regulations act of 2011. Potential customers should read the Privacy Policy before creating an account and any doubts they had will be taken care of. Skrill uses your information only so they can provide you with their services and fulfil all their obligations towards their customers. This means that they won't share any details about you for marketing purposes. All your personal details and bank information are hidden. Only details like your name and the country you come from will be public to the recipient while the money is being transferred.
On top of that, Skrill offers two-factor authentication for extra security. When you set it up, every time you want to log in, you will receive a code on your phone which you have to enter to be able to log in. This way, no one can log in to your account without your knowledge. When it comes to protecting all your data from being intercepted, Skrill uses advanced encryption security. All in all, customers have nothing to worry about when dealing with this e-wallet.
How to create an account with Skrill?
Now that we shared everything you need to know about the services offered by Skrill, it's time to talk about how you can join. It's a very simple process that will take a minute and you can start using the service right away. First, visit the official website and click on the purple "Register" button, located in the top right corner of the site. At that point, a registration form will open, and you will be asked to fill in some details. You need to enter your name, last name, country, currency, and e-mail, and pick a password.
Once you are ready, click on Register and Skrill will send you an e-mail confirmation. Click on the link in that mail and you will be redirected to log in and finish the registration process. Your account will be considered complete and ready to use when you provide Skrill with your phone number, address, and date of birth. After that's done, simply fund the e-wallet and you can start using it right away.