Games

Bonus

Deposit/Withdrawal

Customer support

Mobile version
Sportsbooks and casinos have become extremely popular in Kenya over the last decade. For that reason, a lot of gambling operations were started around 2015. Mcheza is one of those companies as they joined the gambling world with a sportsbook in 2015. As a Kenyan operator, they quickly became popular and at the moment are one of the best in Kenya. In this article, we will cover everything you need to know about this operator. We will cover everything from history and website design to payment methods, bonuses/promotions, and how to register.
History
Mcheza began its operation back in 2015. The company that owns the Mcheza website is Acumen Communications Limited and is licensed by the Betting Control and Licensing Board of Kenya with license number 686. Kenyan licenses have very strict laws and because of that are extremely trustworthy. On top of that, their website is safe and secure and they also promote responsible gaming. At the moment, the operator offers odds and markets for pretty much every sport in the world.
Players will be happy to learn that Mcheza offers promotions to their most loyal sportsbook customers. When it comes to payment methods, they are limited just like most Kenyan gambling operators. However, players can safely deposit and withdraw on the website. Keep reading to learn everything you need to know about this operator and the services they offer.
Mcheza Website Design
The design of the Mcheza website is very simple and easy to use. It has a black background with white letters and yellow highlights. Players will notice that the most important buttons are located on the main menu which sits at the top of the page. To the right, players can see the Sign in and Register buttons as well as all the settings. The website gives players an opportunity to set the odds the way they like them. For instance, they can be decimal, fractional, American, Malay, Hong Kong, or Indo. Next to all those buttons is the FAQ section but we will talk more about that at the end of the article.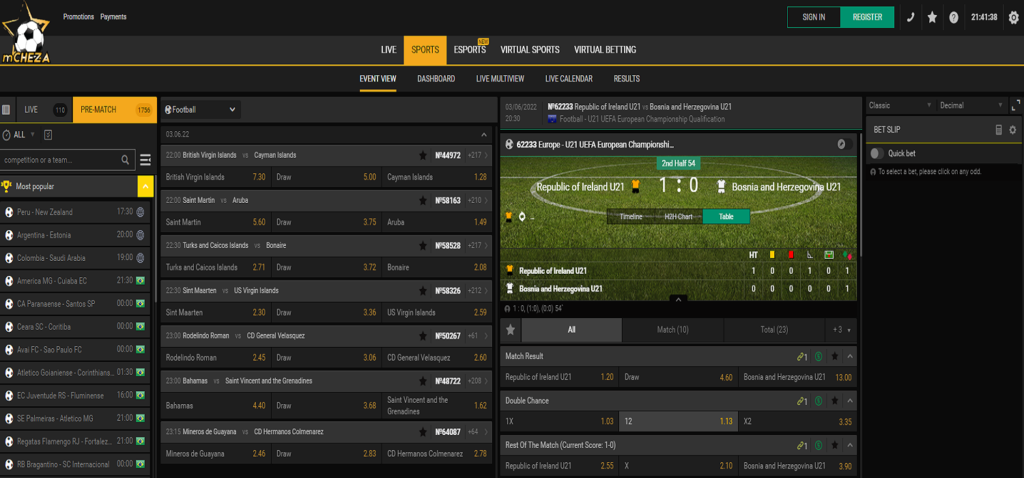 When we talk about the website, we also have to mention that Mcheza has an excellent mobile-betting interface. It's very easy to navigate and you can do it through any type of phone device. It looks exactly like the desktop version as all the sports betting options are there. The operator has a mobile app as well but it's compatible only with Android devices. The app is not available on Play Store and you have to visit the desktop version to download it.
Mcheza Casino
As we mentioned at the beginning, gambling is very popular in Kenya, especially over the last couple of years. Hundreds of online casinos have appeared on the territory in these Covid times. It's important to note that a license from the Kenyan government is very trustworthy because it's hard to get one as their rules are strict. All of that makes online casinos very popular in Kenya as their customers have been looking to play casino games outside of the country in the past. However, there is no need for that anymore as there are dozens of excellent casinos in Kenya that offers some of the best casino games in the world.
Nevertheless, we have to say that the Mcheza website doesn't offer an online casino service at the moment. We hope that they are going to change that in the near future because casinos are more popular than sportsbooks. Once they add a casino section on their website, we are going to review it in proper detail.
Mcheza Bonuses & Promotions
Kenyan operators are not known for their bonuses and promotions. There is rarely a welcome bonus or something similar for customers to enjoy. This is true for Mcheza as well as they have only one promotion at the moment and there is no welcome bonus. We hope this changes in the future but for now, we will review the one promotion that is active right now. Sports bettors can enjoy a maximum of 50% extra payout on multi-bets. To activate this bonus, a player needs a bet slip of at least five games with minimum odds of 1.5 per game. The bonus payout starts at 10% for 5 games and goes all the way up to 50%. Here is how the payout looks depending on the number of games on the bet slip:
5 games – 10%
6 games – 10%
7 games – 15%
8 games – 20%
9 games – 25%
10 games – 30%
10+ games – 50%
Mcheza Payment Methods
Just like most Kenyan gambling operators, Mcheza doesn't offer a lot of options when it comes to depositing and withdrawing funds. They only have one option that Kenyan players will recognize because it's the most popular method in the country. This method is known as M-Pesa and it's a mobile money transfer service that's the best in Kenya. To make a deposit through this method, a player needs to use the number 295525. All you need to do is send an SMS with the amount you want to deposit at the number we mentioned and your request will be processed instantly. It's important to note that there are no additional fees for making a deposit. The minimum amount you can deposit is 10 KES while the maximum amount is 140,000 KES.
When it comes to withdrawals, players can use M-Pesa as well. The process is very fast as the only thing players need to do is to send an SMS to 29888 with the text "cashout" followed by a hashtag and then the amount they want to withdraw. The amounts are the same as the deposits with the minimum being 10 KES and the maximum being 140,000 KES.
Customer Support
One extremely positive thing about Mcheza is the way they treat their customers. At the start of the article, we mentioned that there is a FAQ section that holds almost all the answers. However, if you need additional help, there are customer support agents that can assist you. Mcheza ranks among the best operators in Kenya when it comes to customer support. Players have a couple of options to contact their support agents.
Live Chat is available 24/7 with advisors that are polite and well-trained to help you sort any issue.
Email – [email protected]
Phone – +254 (0)780 229 888 / +254 (0)709 229 888
How to register on Mcheza casino?
Before we end this review, we have to explain how you can create an account at the Mcheza website. There is one way to register and it's extremely simple. New customers simply need to click on the Register button which is in the top right corner. Once a player does that, the website will ask for a phone number, to pick a password and choose the preferred currency. Fill in the information, click Register and your account will be ready to go.
Conclusion
All in all, Mcheza are a good sportsbook that aims to increase its influence on the Kenyan market in the future. At the moment they don't have a casino offer but we expect that to change sooner than later. The operator has a simple website that's safe and secure and also licensed by the Kenyan government. Players don't get much when it comes to bonuses and promotions but sports bettors can enjoy extra payouts on their bet slips. What's great about this operator are the customer support agents who do their best to help every customer. To conclude, Mcheza has a long way to go but they have what it takes to become one of the best operators in Kenya.