As a mobile phone-based money transfer service, M-Pesa is one of the best payment options available to people in Kenya. By using this service, customers from Kenya can send money to anyone else. This service was launched by the Vodafone Group PLC and Safaricom which are the largest mobile network operator in Kenya. The service was launched in 2007 as a combination of these two entities. The M in the name stands for mobile while Pesa means money or payment in Swahili. With M-Pesa customers can make withdrawals from a network of agents, including airtime resellers and retail outlets that work as banking agents. This is because the service is known as a branchless banking service. Below, we will share everything you need about this payment service. This includes how the service works, how to register and how to deposit and withdraw from your online casino account.
How does M-Pesa Work?
Customers of this service need to use a mobile device to make deposits, withdrawals, and money transfers, pay for goods and services as well as to access their savings. All of this is done through the Lipa Na M-Pesa service and it comes with two components. The first one is Paybill which is used for remote payments. The other one is known as Buy Goods and as the name suggests it's used for retail purchases of goods and services. Since this is a mobile service, customers need a SIM card to use the virtual banking system. Customers from Kenya have to use a SIM card from Safaricom. Once you insert the card, all money transfers and payments are made by sending SMS messages.
If you don't have a bank account, M-Pesa allows an alternative way to fund your account. There are outlets located around Kenya where customers can fund their accounts. You give the money to the kiosk attendant who then digitally transfers the cash to your account. As we mentioned above, to be able to use any of the M-Pesa payment options, you need to register for the Lipa Na M-Pesa service. The Buy Goods option will allow you to purchase goods. The buyer doesn't need to have any relationship or connection with the vendor. Even an account number is not needed. All it takes is for both sides to confirm the payment via a text message.
Pay Bill
On the other hand, the Pay Bill option is used to make remote payments. For this service, the customers need to have an account number. This number helps with identification when the customer makes a payment. The customer enters his business number (Paybill number) for the company he wants to register with. The Pay Bill option is what people use for deposits on online gambling operators. Each casino or bookmaker will have its own Paybill number. Keep reading to learn more about the services offered by this digital payment provider.
M-Pesa Services
The most basic service offered by M-Pesa is that customers can buy goods with it. It works exactly like a digital wallet. However, instead of using online credentials to make payments, you do it via a SMS message. Nevertheless, buying/selling goods online is just one of the services that M-Pesa handles. Additionally, customers can make deposits/withdrawals at online casinos and transfer money between payment operators. Below, we will explain these two services in proper detail.
Deposits/Withdrawals
Almost all online casinos and bookmakers in Kenya accept M-Pesa as a payment method. As a matter of fact, it's the most used payment method in Kenya. It's a fast and reliable option, especially for people who don't have bank accounts. To make a deposit, customers need to follow several steps. First, make sure that your M-Pesa account has enough money to cover the deposit. You can visit an agent of the payment service to top off your account. Once you have enough funds to make a deposit, the rest of the steps are very simple.
Since this is a mobile service, the first thing you need to do is download their app. Open the app and click on the PayBill option. The next thing you need is the PayBill number of the casino or bookmaker where you want to make a deposit. So, enter that number and also write your online casino account number or your username. The last part is entering the amount you want to deposit and your M-Pesa PIN. Click send and within seconds, you will receive an SMS confirmation that your deposit has been made. Within minutes, you will be able to play your favorite casino games.
When it comes to withdrawals, there are two ways of doing it. First, you can go to the withdrawals section on your casino account and pick M-Pesa as a withdrawal method. Enter the amount you want to withdraw and fill in the other required details. The casino will process the withdrawal within minutes and the money will be transferred to your account. Alternatively, you can do the withdrawals by sending an SMS to a specific number. The details of the SMS and the number are unique to each casino so check with your casino for the details.
Money Transfers
The last M-Pesa service we will talk about is transferring money between different banking options. It can be done between other mobile banking companies but also between M-Pesa and digital wallets. Below, we will explain how you can transfer funds between two popular payment options.
PayPal Service
Kenyan customers can move funds between their M-Pesa and PayPal accounts. They can link these accounts and make deposits/withdrawals without any issues. To link the accounts, customers need to log in to their PayPal and enter the phone number of their M-Pesa account. Once that's done, you can send money between the two accounts. To send money to PayPal the fee is 4% of the total amount you are sending. On the other hand, withdrawing money from PayPal to M-Pesa comes with a charge of 3% of the total amount and the money is converted from USD to KSH. Depending on the amount you want to transfer, these services can take between 2 hours and 3 calendar days.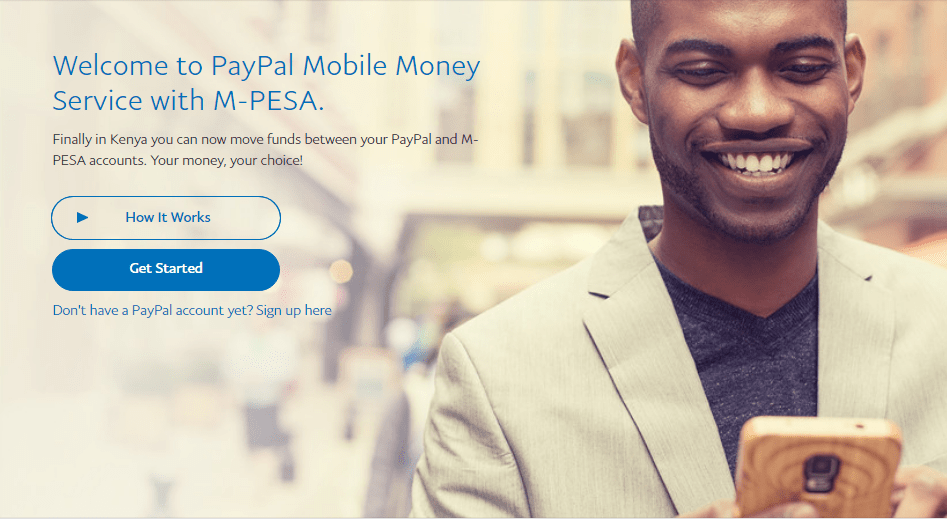 Airtel Money
Customers can also transfer money between M-Pesa and Airtel Money which is another popular payment option in Kenya. On top of that, transfers are possible with other mobile money networks like Telkom. The service to do this transfer is M-Pesa Tuma Popote and can be used by every Safaricom subscriber out there. The process is simple and you can send money to an Airtel customer who happens to be using Airtel Money or T-Kash which is a Telkom service aimed at Kenyan customers. Follow these steps to make a money transfer between M-Pesa and Airtel Money:
Dial *334#
Select Send Money
Select Send to other Network
Enter mobile number
Enter the amount and complete the transaction with your M-PESA PIN.
Fees & Charges
Now that we explained how this mobile banking option works, let's talk about the fees that come with it. While account registration and making deposits are free, there are certain charges for some of the other transfers. For instance, withdrawals come with fees that depend on the amount you want to transfer. Also, some fees might apply if the person who receives the money doesn't have an M-Pesa account.
Transfer Charges
Transferring money to other M-Pesa users comes with no extra charges as long as the amount is up to 100 KSH. For amounts higher than 100 KSH, there are fees that vary from 6 KSH to 105 KSH. This is also true for transfers to other Mobile Money users. However, if you make a transfer to someone who is unregistered, the fees can go over 300 KSH, especially when transferring large amounts.
Withdrawal Fees
Customers can withdraw the money from their M-Pesa account by going to one of their agents or by using an ATM. Withdrawals through an ATM can be no lower than 200 KSH and a maximum of 20,000 KSH. The charges will be between 34 KSH and 197 KSH depending on the amount you want to withdraw. On the other hand, the withdrawal limit is higher when going through an M-Pesa agent. Customers can withdraw up to 150,000 KSH while the minimum withdrawal is 50 KSH. The charges for these withdrawals can be anywhere from 10 KSH for a small withdrawal up to 300 KSH for withdrawing the highest possible amount.
The biggest benefit of using the M-Pesa mobile payment service is that all your deposits are safe and secure. Customers can make instant deposits into their casino accounts without fear of fraud or any other problems. The transactions are handled offline which means your payment details are protected from any unauthorized third parties. On top of that, M-Pesa handles its business digitally and in real time. So, customers receive their money much faster than with a traditional bank transfer. All transactions are protected by a PIN which adds another level of confidentiality to the process.
M-Pesa App
All the above-mentioned transactions are facilitated by the M-Pesa app. The app is very straightforward and easy to use. It has an offline mode feature that enables users to carry out the majority of M-PESA transactions without the need to connect to Wi-Fi or Mobile Data. However, remember that this feature is available only on Android devices. This app can be downloaded from the Play Store and it works on devices with Android version 4.4 or above. The iOS version, on the other hand, can be downloaded from the App Store and works on devices with iOS version 9 and above.
Security & Benefits
Lastly, we have to mention the PayPal service as a major benefit when using M-Pesa. This feature helps you to deposit or pay online at an online vendor that doesn't use M-Pesa as a payment method. So, you can use your PayPal account that's connected to your M-Pesa account instead.
How to create an account with M-Pesa?
Finally, we arrive at the last section in our review where we will talk about how to register with M-Pesa. There are a few steps that customers need to follow before being able to use this service. First, you need to visit an M-Pesa Agent outlet and show a valid ID. You also need a Safaricom SIM card number. Once you do all that, you will receive an SMS on your phone that confirms that your registration is successful. Additionally, you will receive a PIN which will help you activate the M-Pesa account on your phone.
After all that is handled, you will receive a Customer Registration Form that has to be filled out. The agent will then go through the details you entered and confirm them. If everything is good, he will sign the registration form and your account will be ready to go. Don't forget to enter the 4-digit PIN that you got through SMS in order to activate M-Pesa on your phone.