A jackpot is a special bonus that casino players can win while playing a certain slot or some other casino game. In games like lottery, bingo, and keno, the jackpot is more often than not, the main prize. However, when it comes to casino games, the jackpot is something you can win on top of other lucrative rewards. Unlike bonus features and regular wins, there is no guarantee that you will win a jackpot. In slots, it's the highest possible win which you can get at any time. If you are lucky, it will take just one spin to win this reward. It's not connected to betting amounts, deposits, or any other requirement.
The amount depends on many factors like the type of game, casino, etc. In this article, we will talk about the different types of jackpots, the most popular versions, and what you can do to increase your chances of winning one. Keep reading to learn everything you need to know on this topic.
How to Win a Jackpot?
Before we start explaining the different types of jackpots, we have to make one thing clear. Winning one depends on luck and nothing more. They work as a bonus reward for whatever you can win in the game. So, it can happen during any spin, completely at random. Nothing you can do will influence the jackpot, no matter which casino game you are playing. Some of them can have a fixed amount you can win; however, that has nothing to do with the bet you are using. The only thing the player has to make sure is to bet above the minimum amount so he receives the opportunity to win this massive reward.
What you as a player can do is look for the best game that offers the highest payouts. Some games have just one but there are certain games that offer multiple jackpots. For instance, the Mega Moolah slot title has four of them, each with a different amount. On top of that, the game is a progressive slot which means that the amounts of those four jackpots will grow every time a player anywhere in the world spins the reels of Mega Moolah.
Types of Jackpots
As we mentioned at the beginning, the types of jackpots will always depend on several factors. First, we have to look at the casino and the types of games it offers. Based on that, we can see the different jackpots that can be won. The main types are progressive and fixed. However, there are other types as well and we will explain all of them right below.
Progressive Jackpots
This is the most popular type of jackpot at the moment. The reason for that is simple, winning one of these progressive rewards can completely change your life. There have been dozens of examples where people have won more than $10 million through them. They get the name progressive because the amount they are offering is not fixed. Basically, every time a progressive game is played, anywhere in the world, the amount of the jackpot will increase.
In certain games, there are rules about when a progressive jackpot might occur. However, as we already said, it's mostly based on luck. Also, since the amounts can go up to millions, it's very hard to win one. As in every game where luck prevails, there are no rules when it comes to these rewards. For instance, someone can win the biggest jackpot while betting the minimum amount. Also, one person can win multiple times. Even if someone wins and the amount restarts, the chance to win the next one remains the same. It can happen right after the first person wins because there are absolutely no rules to control it.
How to win a progressive jackpot?
Winning will depend on the games you are playing. As we said, a regular jackpot is won only through luck and no other factor. However, there are progressive games where some rules apply. Before playing such games, players should learn everything they can about the game. This includes the different ways of winning that the game offers as well as the RNG or what in slots is known as the RTP percentage.
Certain games will offer a jackpot when a certain winning combination happens. For instance, certain symbols fall in the right place on a designated payline. Other games offer a progressive reward when players play on the highest stakes. In games like Mega Moolah, you can trigger a wheel of fortune and if it lands in the right place, you will win one of the jackpots. Additionally, there are slot titles where the jackpot is connected to one of the bonus features of the game. So, first, you have to trigger that bonus round and then maybe win the highest reward. Last but not least, there are games that come with must-drop jackpots. These are rewards that happen on a deadline so players know when they can win the maximum reward.
Types of progressive jackpots
Since they are the most popular type, there are different types of progressive jackpots out there. The type depends on the pool amount, the games that are part of that pool, and the people who are playing at one time. With that in mind, they are divided into standalone progressive, proprietary progressive, and wide progressive jackpots.
Standalone – This type applies to only one casino game. So, the money pool consists of bets made only in that game at that casino.
Proprietary – This is the type of jackpot where more games are linked together to form a bigger pool. So, when players bet on any of those games at that casino, the pool reward will keep increasing until someone wins.
Wide – Last but not least, we have the most popular version. This is the type of jackpot that connects several casinos together. It's usually on just one game and whenever a player plays that game at one of those connected casinos, his bets will contribute to the same reward. Obviously, this is the type that has the highest possible win.
Fixed Jackpots
The word fixed is self-explanatory in this situation. Unlike the progressive jackpots that grow when people play, a fixed one always has a fixed sum that is paid out. The amount is not connected to how much the players bet. It also doesn't matter how many players bet and how big their bets are, the fixed jackpot amount won't ever change. However, there is one thing that's similar to the progressive option. Winning is luck based which means it can happen at any time and a player can even win twice in a row. Just like any other jackpot, the fixed one uses random number generators. Gambling entities make sure that's the case because every game needs to follow the rules of fair gameplay.
A lot of casino players prefer a fixed jackpot to a progressive one because percentage wise the chances to win are bigger. This type is always steady and you always know what amount you can win which means there are no fluctuations that can surprise you.
Mystery Jackpot
These jackpots are otherwise known as Must Hit By jackpots. Basically, they have to happen in a game by a certain point. The value is always the same when it starts and before the maximum amount is reached, someone has to win. However, as a player, you can't know when that will happen. The jackpot can happen at any point between the starting value and the maximum value. Obviously, if the amount is close to the maximum one while the jackpot still hasn't been won, the chances of winning it will increase with every round.
Games that offer this type of jackpot will have a meter somewhere on the screen. This meter usually says Must Hit By or something similar to that. The meter is there so players know how big the amount is at the moment they are playing.
Multiple Jackpots
We already discussed this type in the article when we mentioned the Mega Moolah slot title. As the name suggests, there are games that offer more than one jackpot. They are part of the progressive jackpot group. Every wager a player makes increases each of the multiple jackpots that the game is offering. However, when the player wins, he wins only one of those jackpots and the amount for that one resets. The other jackpots, on the other hand, continue to grow with every wager.
Jackpot Games
Outside of bingo and lottery games, the word jackpot is most commonly mentioned in slot games. However, there are certain variants of table games that offer jackpots as well. In most cases, the ones that are offered are progressive.
Slots
As the most popular casino games, slots are connected with jackpots as well. These jackpots can be attached to a slot title in a different way. Some of them have fixed while some have a progressive jackpot. Most of them will be based on RNG and only luck can decide who wins. However, there are certain slot titles where a jackpot is won by triggering a specific winning combination. All in all, slots are the main attraction when talking about any type of jackpot.
Progressive Blackjack
Even though most table games don't have anything to do with jackpots, modern online casinos are currently changing that. There are progressive table games that give players a chance to win a jackpot together with their regular wins. Progressive blackjack is a variant of blackjack that comes with a jackpot. Rules-wise, the game is the same; however, when you place a wager, you can also place a side bet towards the progressive jackpot pool. Thanks to that, the jackpot will keep increasing as you and any other player play that progressive blackjack game.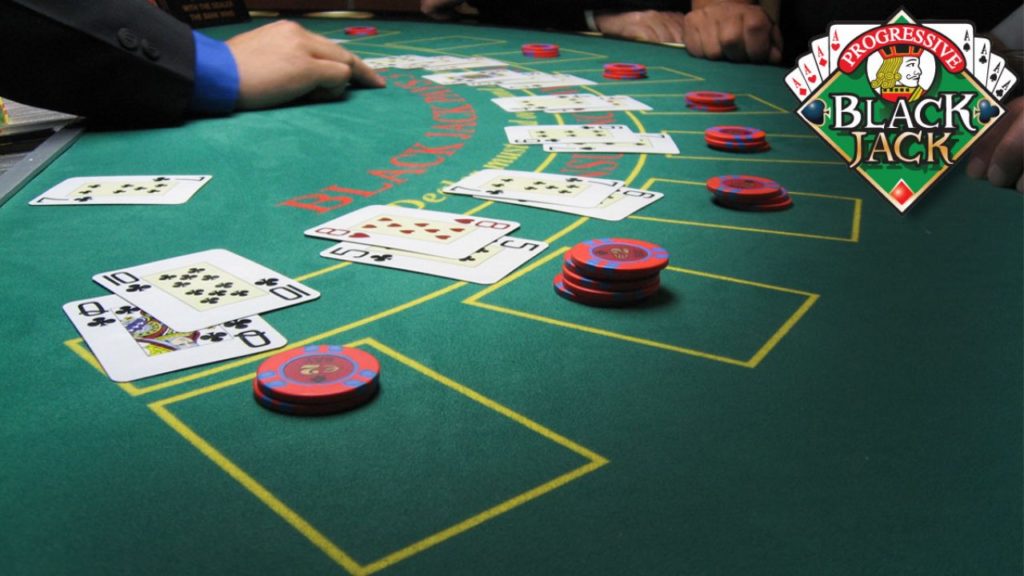 Now, there are certain things you have to do in order to win this jackpot. You need to get a certain winning combination of cards and this combination will depend on which casino you are playing the game on.
Progressive Roulette
This game works exactly like the one we just described above. The rules are exactly like in classic roulette but right next to the standard bet, players can make a side bet which will go towards the jackpot pool. However, unlike in progressive blackjack games, the side bet is mandatory in progressive roulette. The winning rules are different in each casino, but usually have something to do with hitting the same number multiple times in a row.
Progressive Poker and Video Poker
Poker games are part of casino table games and in the past, they have never been connected to any jackpots. However, online casinos now have games that are known as progressive poker. Just like in the previous examples, there is a side bet that you can place alongside your regular bet. This side bet will increase the progressive jackpot will every round. There are different variants of progressive poker games and each one has a different combination that wins the jackpot. It's best to check which combination will win you the jackpot before playing the game. What's best about progressive poker is that you are still playing poker and can win the biggest rewards it offers. However, on top of that, you can also win a jackpot.
Lastly, there is one more game that can offer a progressive jackpot in modern online casinos. Video poker was slowly disappearing but with the appearance of progressive video poker, it's back in the fold. In video poker, you play only against the dealer but in progressive video poker, you can make side bets that can get you a progressive jackpot. The pool increases as more players play the game which means the jackpots are progressive. Usually, to win this jackpot, players need to get a certain five-card winning hand. In most cases, the winning hand is a royal flush.